Our Studio
Centerline Martial Arts & Fitness is proud to partner with professional personal trainer Mara Skalenakis. Mara provides private, one-on-one training sessions in our clean, quiet studio.
No other trainers or clients, just you and your trainer.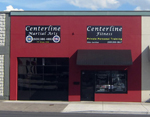 Centerline Marial Arts & Fitness is located downtown Walla Walla at 27 West Poplar
We have a lot of great equipment including a state of the art Functional Training Center, an outstanding Body Solid smith machine, Body Solid crossover machine, a complete dumbell set (5-70lbs.), high quality benches, vertical knee raise/Dip/Pull up station, kettle balls, medicine balls, stepper, recumbant bike, elliptical bike and much more.
Please email us or call 206-491-9517 and we can get started right away.
We also have over 1600 sqft of matted training space for Cardio and group workouts.